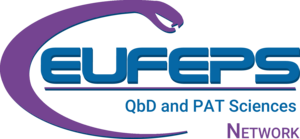 EUFEPS Network On Quality By Design (QbD) And Process Analytical Technology (PAT) Sciences
Scope and aim
This Network is developing a forum for academic, industrial and regulatory professionals in the various scientific fields underpinning Quality by Design (QbD) and Process Analytical Technology (PAT), sharing and discussing findings in cutting edge research and establishing effective and innovative collaboration, the EuPAT conference series being a new platform. It also contributes to education and training in the field as well as to foster hands-on implementation of systems approaches and emerging technology in pharmaceutical production processes. Promoting and supporting collaborative research projects established from inter-academic, academic-industrial and public-private partnerships is an additional important objective, ultimately leading to innovation and better process understanding.
Background
Building quality into drug products should commence during the early phases of research and development. Consideration and implementation of the quality requirements for new medicines at these early stages should facilitate effective process development and robust large-scale manufacture. Process Analytical Technology (PAT) should therefore play a crucial role in design, analysis, and control of manufacturing processes based on timely in-process measurements for integrated system approaches, innovative developments and cutting edge scientific advances.
At the EUFEPS 2004 in Brussels – for which the overall theme was New Safe Medicines: Towards Mechanistic Prediction – there was a session devoted to Revolution in Science Driving Process Analytical Technology. Those participating in this session of two and a half days decided to create a European Network on Process Analytical Technology Science to further encourage, stimulate and initiate new approaches and interaction, but also to promote education and training in the field. It was concluded that both better understanding of chemical and industrial processes and development of advanced instrumentation and measurement tools were very much in demand. For a short summary of the outcome of the EUFEPS 2004 Session, see the December 2005 (4/2005) issue of the EUFEPS NewsLetter.
EUFEPS has agreed to provide a home for this emerging Network as well as to facilitate communication including announcement on the organization of PAT focused meetings and courses.
Mission
The EUFEPS QbD and PAT Sciences Network has been established to create and maintain a unique and effective forum to encourage and improve collaboration, actively contribute to education and training, and to promote innovation in relevant sciences - all to power science based process understanding and Quality-by-Design for medicines.
The objectives of the EUFEPS QbD and PAT Sciences Network include:
To develop a network for academic, industrial and regulatory professionals in the various scientific fields underpinning PAT
To create a forum for sharing and discussing findings in cutting-edge research and establishing effective collaborations leading to innovation and better process understanding.
To bring scientists together, enabling active research debate, network development, scientific knowledge exchange and the initiation of collaborative projects
To promote and facilitate the advancement of fundamental underpinning science and process understanding
To contribute to education and training in the field as well as to foster hands-on implementation of systems approaches and emerging technology in pharmaceutical production processes
To educate and equip industrialists and regulators with requisite knowledge and cutting-edge process understanding, to facilitate the adoption and advancement of PAT science in the development and approval of new drug products
To promote and support collaborative research projects established from inter-academic, academic-industrial and public-private partnerships